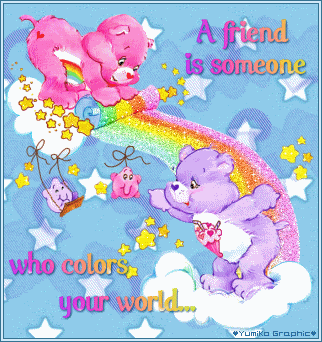 FRIENDS… comes with the following description to be added & passed along: "These blogs are exceedingly charming. These kind bloggers aim to find and be friends. They are not interested in self-aggrandizement. Our hope is that when the ribbons of these prizes are cut, even more friendships are propagated." It also says : "Please give more attention to these writers. Deliver this award to eight bloggers who must choose eight more and include this cleverly-written text into the body of their award."
Lovely Jemima gave me this award *blushes* and totally made my evening a bit more sunshiney (its been raining all day!) I admit - I am inherently computer-illiterate so I couldn't figure out how to copy up the proper award-button to post. But I think I found a suitable replacement, no? I wish I could give this award to everyone - you are all so amazing and inspiring to me. But the rules say only eight. And so, the eight bloggers I am passing this onto (in no particular order!) are:
Erin
,
Laura
,
Natalia
,
Nell
,
Kiki
,
Maya
,
Eliza
, and
Stef
So about today. Today was a pretty good day - faced a few challenges in my meals but I did it and I feel good about it all. Its becoming really liberating. On days like today, I feel like I am separating myself more and more from my eating disorder, and it doesn't seem overwhelming or frightening - more inviting and exciting than anything. I don't know how long the feeling will last, but I am going to appreciate it while I have it.
Breakfast: Multigrain hot cereal, Bolthouse Farms Vanilla Chai, and half a banana cooked in. Raisins and granola stirred in after cooking, rest of banana sliced on top with a tablespoon of Dark Chocolate Dreams. Also, strawberries and plum juice along side. I've never really had anything chocolatey at breakfast before, so this was a bit of a challenge, but it was really quite good. I think since it was only chocolate peanut butter - it was easier mentally and it was quite differnt to me. I also have decided that I really should try a dark chocolate PB and banana combined more often.
Mid-morning snack was Fage 2% with trail mix, raisins, honey and half a cup of chocolate soymilk. Nothing fancy.
Lunch. Oh another mighty lunch.
Lunch: One baked sweet potato cut into wedges, scrambled egg with cottage cheese, peas, broccoli and tomato. On the side: sliced fuji apple and a juice box.
OK. If I had to name any food as my most feared, it would probably be potatoes. But this was lovely. It was cold and rainy today as well, so it was the perfect day to have a warm lunch. It was really challenging for me - a hot lunch two days in a row! And it was things I've never had at home (scrambled egg, potato) both of which are kind of fear foods. I will definitly have this meal or something similar to it again though - it was quite good. I felt so proud of myself after, I couldn't believe I did it.
Lunch dessert was a long time favorite.
I haven't had this in awhile due to them being discontinued - I've been trying to save the ones I have. While I really like the dark chocolate walnut, I still have to say this one is my favorite. Can you believe it? I actually have preferences now! I think acknowledging these little things is important - it helps show how much progress truly has been made. Its not just the big steps like being at a healthy weight - its also the little things like being able to say you prefer one flavor over another, or being able to say that you truly enjoyed something. Those things are every bit as important - they just tend to go unnoticed more often. I'm trying to pay attention more to all the little bits of change that I tend to overlook - helps me see how far I've come. A year ago, I didn't even know how to say what I liked or what I preferred, and not just with food. It touched everything from what shoes I wore and the clothing I had on. I didn't go shopping for nearly a year because I felt too overwhelmed by the idea of having to choose what I liked. Not anymore though. Now its becoming more of an adventure.
My afternoon snack was none so photogenic but it was really quite good. And different! Well different for me anyways.
In the bowl: Mott's unsweetened applesauce, cinnamon, granola, almonds and cottage cheese. On the side, another half a cup of chocolate soymilk.
Dinner posed another huge challenge for me. But I was determined to follow through with it.
Dinner: bulgur wheat with hummus, peas, broccoli, roasted red pepper and tofu drizzled with olive oil. All mixed together! This was huge. And I finished it. I can't believe I didn't do this mixing foods thing a long time ago. Well, I suppose I can. But it is truly so, so much easier for me to eat and finish the whole plate without all those little individual food groups staring at me, begging me to pick through them. Yes, I admit it. I have had a tendency to inspect food before I eat it. Definitely an eating disordered/OCD issue. But mixing my food together has seemed to resolve that issue entirely. God, I felt so much more normal today, more than I have in a long, long time.
Dessert with dinner was another doozy.
Vanilla greek yogurt, dark chocolate chips and crunchy peanut butter.
You know your girl totally saved about half that peanut butter till the end and smushed the last two or three chocolate chips into it. I've never been a fan of Reese's, but the dark chocolate and PB combo is really quite good. That last spoonful was an indulgence, but I figured what the hell, if I'm going to be breakin' on ED today, I might as well go all the way, right?
Nighttime snack was another round of pumpkin oats. Its weird, I'll go like a week without really wanting this at all, and then I'll have pumpkin oats for like three or four days in a row. :shrugs: Oh well. Maybe I've just been needing that comfort lately.
All in all, today has been a really good day for me and I really appreciate it. Part of why it was such a good day was waking up to all the lovely comments and encouragement. You guys give me strength and you help me believe in myself. I can't thank you all enough for that.
I hope everyone enjoys their Sunday afternoon and if you happen to celebrate Easter - I hope its a happy one, spent with family and friends. Don't forget to treat yourselves a little bit either!